Saturday 22nd August 2009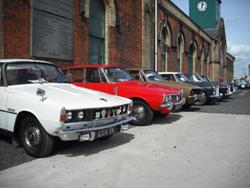 The first Titanic Vintage Day took place on Saturday 22nd August 2009.
The event was held at the site of Titanic's Dock and Pump-House in Belfast.  This dock was specially built for the Olympic class liners and, at the start of the 20th Century, was the largest dock in the world.  It was once the beating heart of the Harland & Wolff shipyard during the construction of the great White Star Liners – the Britannic, Olympic and most famously, the Titanic.
Any picture you see of Titanic in a dock will probably be of her in this one.   Today the Pump-House has been restored and comprises of a Visitor Centre & Café.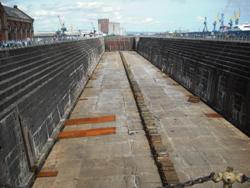 The car show part of the event was organised by AutoRegister – the local based website for those who appreciate vintage, classic and pre-classic cars.  Sixty cars were invited to take part and we were invited to bring 6 Rover cars.  We had 1 Rover P4, 2 Rover P5B Saloons and 3 Rover P6s which made a nice display.  The Rovers included David Nesbitt's 1964 P4, Bo Simpson's 1971 P5B, George Crothers' 1971 P5B, Colin Jeffery's 1969 Three Thousand Five P6, David Donnell's 1971 2000 TC and Billy Reilly's 1971 3500.
Other Clubs in attendance were The Vintage Austin Register who had 10 Austins ranging from a 1907 Austin 18/24 Heavy to a 1934 Austin 7 Tourer, the MG Owners Club who had 6 MGs (1 A, 4 Bs and 1 C), The East Antrim Old Vehicle Club who seemed to have about 16 cars of various makes and models, and there were 3 DeLoreans including a 'Back to the Future' look-a-like.  There were also a number of individual entrants.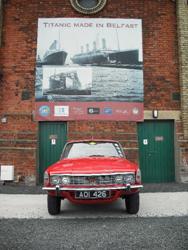 Frock around the Clock organised the indoor 'Vintage Fashion, Textile, Jewellery and Decór Fair' in the Studio Room of the Pump House, where visitors were able to view and buy unique and original vintage items ranging from clothing and accessories, jewellery and home wares to dolls and advertising memorabilia. Local fiddle maker Donald Gillis was also demonstrating his craft.
I thought that we were given a great spot for our Rovers, along the wall of the Pump House, just between the Studio and the Café, and right in front of the Thompson Dry Dock.
Entry to the event was free with the option of purchasing a discounted lunch.  All our members opted for the lunch and this included a ticket for a free tour of the Pump House.  In the Café archive film footage was showing giving the history of shipbuilding in Belfast.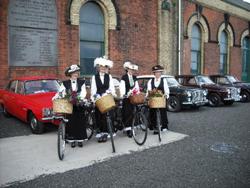 There was a group of ladies from 'Pedals and Petals' who arrived on their old bicycles with flower filled baskets, dressed in black walking skirts with white blouses and huge decorated hats.  I asked them if they would come and pose for some photographs in front of our Rover cars and they did without hesitation.  Quite a crowd soon gathered to take photographs of this.
I had a good chat with Michael, the organiser, at lunch and he said that he would like to do the show again next year and that there would be room for more cars then.  He also suggested that we could organise a club event to there either on our own or in conjunction with other clubs.
We will definitely be going back again.
Colin Jeffery