21st June 2009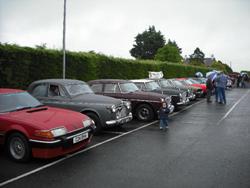 We had a good turnout of 13 cars this year at Hillmount and a good variety on display.  I think we again had the biggest turnout of any of the clubs there.
Billy Reilly and Colin Jeffery were first there and George Crothers arrived shortly after to secure the prime spot and put up our banner.  Cars in the 'Rover' line-up included 1 Rover P4, 3 Rover P5Bs, 2 Rover P6s, 3 Rover SD1s and 3 Rover 75 Tourers and Leslie Millar with the Toyota MR2.
On registration, all entrants received a welcome pack including a £5.00 voucher to spend in the restaurant, a model 'Hillmount' lorry finishers' award and an assortment of other items including a pair of work gloves and magazines in a bag.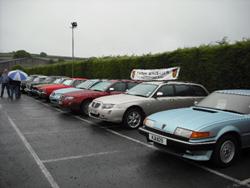 The weather was slightly damp, but not too bad.  Shortly after 12.00pm, Neale and me went into the restaurant with young James and John for our lunch.  I think we went at just the right time as it got very busy soon after this.  Later on, Heather came up with Sarah and Joanne arrived with Lilly, so we all went back in for cake, coffee and ice creams.
It was another great day at Hillmount.  The place was packed with cars, bikes and tractors on display and members of the public coming to see.
Colin Jeffery