A Brief History of the Classic Rover Club (NI)
The Classic Rover Club (NI) was formed in 1996 by members of the P6ROC (NI), P4 DG (NI) and the RP5 OC(NI), who came together to combine efforts as we were all enthusiasts of the Rover marque.
Our first meeting was held on 8th January 1996 at the Ivanhoe Inn (now a hotel) in Carryduff, on the outskirts of Belfast, and 28 members attended.  Initially membership was open to owners of all classic Rovers up to the end of SD1 production.  The Committee of the new club consisted of Martin Donnelly as Chairman and P5 Rep. Colin Jeffery as Secretary and P6 Rep. Neale Jeffery as Treasurer, Joanne Fallis (now Jeffery) as Membership Secretary, Ray McCready as P4 Rep. and David Ritchie as SD1 Rep.
Although one of the smaller clubs, we quickly gained a reputation as a very active and very friendly club, with an emphasis on organising and attending events suitable for the whole family..  We took part in many events throughout Northern Ireland, Southern Ireland and made regular visits across to events on the UK mainland.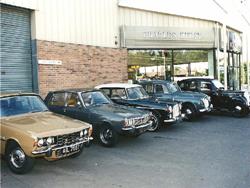 In 1999 we were contacted by Northern Ireland's main Rover Dealer and were asked to provide a Rover P4 75 for their showroom at Knock and to provide a display of Classic Rover cars for the official launch of the new Rover 75.  This lead to a great club connection with the dealership, through their salesman Ronnie Livingstone, and a number of joint events including children's Christmas parties, took place at their showrooms over the following years.
In 2000 we held our first weekend event at Coleraine, called 'Rove 2000'.  The weekend was organised by Peter Miskelly and James Clarke and was well attended by our club members and members of other clubs.  We repeated the weekend event in 2001 and 2002 until, sadly, the Bohill Hotel were the events were based closed down.
At the end of the year 2000, membership of our club was widened to include owners of any Rover Car.  However, care was taken to preserve the original objectives of the club whilst allowing them to be appreciated on a wider basis.
Our Rover Heritage Days at the MG Rover Dealership showrooms in 2001 and 2002 were also very successful and resulted in some great local press coverage.
In 2002 we were approached by North Down Borough Council to put on a week-long display of Rover cars from the past 50 years at Bloomfield Shopping Centre as part of their Golden Jubilee Celebrations.  We had six cars on display representing each decade from the 1950s to the 2000s.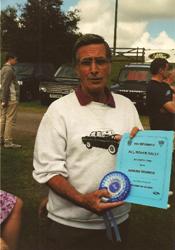 In 2003 we were celebrating the 40th anniversary of the Rover P6.  A group of our members travelled over to Beamish to take part in the P6ROC national rally and 40th Anniversary celebrations.  A number of our cars were photographed for the P6ROC newsletter, P6 News, and a couple of our members, Brian Vennard and Martin Donnelly came home with some prizes.
2004 marked the 100th anniversary of Rover car production.  In May 2004 we held a special 100th celebration rally at the showrooms of the Main MG Rover dealership in Coleraine.  The biggest 100th year celebration rally was in July and was organised by the Rover Sports Register.  The long weekend began for us on the Thursday.  On Saturday we were at the Coventry Transport Museum followed by a tour of the Heritage Museum at Gaydon, where the evening finished with a special anniversary dinner.  On Sunday there was a massive display of Rovers of all ages at Ragley Hall in Warwickshire.  Classic Rover Club (NI) are proud to say that we had a number of members at this landmark event.
In April 2005 we were all stunned to learn of the demise of MG Rover.  Our club was contacted by Radio Ulster who wanted to put together a report on Rover cars for their 'Good Morning Ulster' programme.  Their reporter, Karen Atkinson, interviewed James Clarke and Colin Jeffery on Sunday 17th.  The programme was broadcast a number of times the following Tuesday.
In May 2005 we held another Rover Heritage event at the Coleraine MG Rover showroom, which was to close down after the event.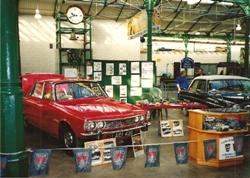 In March 2006 we were one of only six clubs to be invited to take part in the AOVC Classic Vehicles and Model Show at St. George's Market in Belfast.  We put on one of the most impressive displays of Rover cars, Rover memorabilia and Rover models ever seen in the province.  Over the years we have put on a number of similar displays at the annual Bangor Elim Show and the Hillmount Nursery Fathers' Day Vintage Show events.
In 2007 we were one of a few clubs who were invited to take part in a new classic event in Larne – Larne Alive.
Also in 2007 we had our first club stand at the annual Argory vintage show and this is another event now firmly placed on our annual events calendar.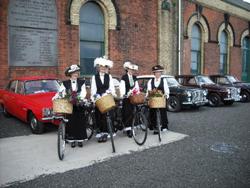 In 2009 we were invited to bring some Rover cars to the inaugural Titanic Vintage Day in Belfast.  An excellent event at a superb historical location.
Over the years we have formed a close link with The Rover Enthusiast's Club of Ireland and travel regularly to take part in and support their excellent events and shows.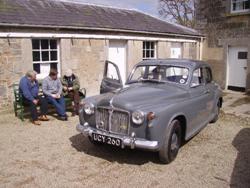 While being one of the smaller clubs in Northern Ireland, we are still a very active club.  Our members take part in events on an individual basis almost every weekend during the season.  As a club we take part in approximately 25 events per year including static shows and road runs organised by other clubs and councils and ourselves.  The events above are therefore just a small snapshot of what we do.  We also never forget the children and focus on family friendly events.
The Classic Rover Club (NI) is affiliated to the Federation of British Historic Vehicle Clubs.