20th June 2009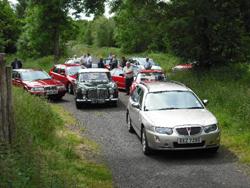 We had 14 cars entered for this event with a total of 34 people.  An excellent entry and even better considering all entrants this year were club members.
The cars included three Rover P5Bs, four Rover P6s, one Rover 820, one Rover 25, three Rover 75 tourers a Toyota MR2 and a Renault Van.
Our meeting point was at Wilson's Auctions at Mallusk.  Everyone was there for about 10.00am and by 10.15am we were on our way.  The first stage of the run was only 17 miles and took us through Templepatrick and Antrim to our first stop at The World of Owls in Randalstown.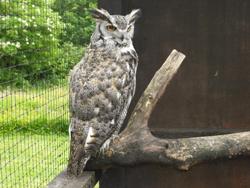 On arrival we tried to arrange the cars for a photo shoot, but we had too many cars for the available space.  We then spent a while looking around the site at the various birds of prey, the snakes and other animals.  The owner used to be a neighbour of Heather's; so old friendships were renewed and there was a bit of catching up with family news, etc.
Soon we were on our way again.  The second stage was again around 17 miles long and took us back towards Antrim to Holybank Farm.  Here we were greeted with coffee and scones, tray bakes and biscuits.  A light shower came on as we were about to have our lunch, so the staff offered us the use of the barn.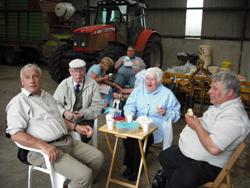 When the rain was over we split into two groups for a tour of the farm and for a demonstration of ice-cream making.  Then we were all treated to samples of the ice-cream.  Some more photos were taken of the cars before we set off again.
The final stage was only seven miles long and took us through Doagh to our finish at Greenacres Golf Centre.  Here we had a mini tournament of Crazy Golf.  This was excellent fun and the banter was great.  George got himself into a situation with one leg either side of a water feature where the water was squirting up his trouser leg as he tried to take a shot.  Some had trouble keeping the ball in the golf centre, never mind on the course.  It was all a good laugh.
When the golf was over, we all walked across to Barnaby's restaurant for our evening meal.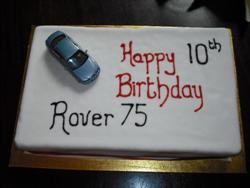 After the meal, awards were handed out for the Golf.  I did not get a note of who won the prizes.  Then the finisher's awards were handed out.  These were limited edition prints commemorating the 10th anniversary of the Dealer launch of the Rover 75 (an event which our club played a part in), and a little golf ball clock.  There were also gifts for all the children.
After this there was the cutting of the Rover 75 birthday cake.
This was a really great day out.  Many thanks to Peter, Claire and Ronnie for all their hard work.