23rd May 2009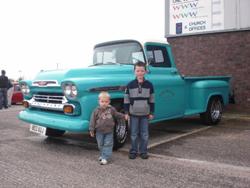 In previous years we have always had an indoor display as well as our outdoor line-up.  But this year, due to the absence of a couple of key members we only had an outdoor display.
On the Saturday morning we were down early to claim our usual spot.  This year we had 8 Rovers on display including 1 P4, 1 P5B, 2 P6Bs (1 series 1 and 1 series 2), 3 SD1s, a 75 tourer and an Ital.
It was great to have our former Chairman, James Clarke, take part in our display.  There was a lot to see and the action outside lasted all day.  I had young John with me and Neale had young James.  There was a climbing wall which John wanted to have a go on.  When he was climbing this a photographer asked if he could take a photograph of him.  The photo appeared later that week in the County Down Spectator. (That is two years in a row that John's photo has appeared in the Spectator at this event).  The show got a full page spread in the spectator and I also spotted some of our other members in one of the photos.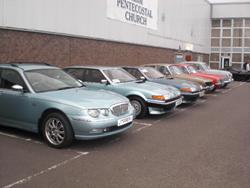 Entry to the event was free and all entrants received a free lunch ticket, which we redeemed later for sandwiches, crisps, chocolate and coffee.
As well as all the cars and bikes, both indoors and outdoors, there were outdoor BMX displays, motorcycle stunt displays, football displays and there was a fashion show in the afternoon.
The weather was great nearly all day, with only one light short shower.
This was another enjoyable day at this event.  Many thanks to all our members who took part.