My son John was away for the weekend, but I had George with me as a passenger for this run. We arrived at our meeting point – McDonalds Sprucefield – before 9:00am and had plenty of time to have breakfast. One by one the others arrived and by 9:30am we had 6 cars. Shortly after, we set off and I led the way, although the P4 set the leisurely pace. Along the route we were joined by Michael and Maureen at Moira and further down the road Philip Annesely joined the convoy.
By the time we reached the Ballygawley Roundabout we were running slightly behind time so had to abandon our plan to stop for coffee and scones. We continued on up the A5 to Omagh and arrived at the Abingdon Collection just about 11:00am. Here we met up with Johnny and Mabel Montgomery and then were joined by Sam McMorris. So we had 10 cars and around 16 people.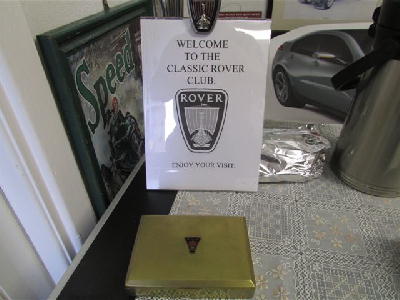 Philip Faithfull, the owner of the Abingdon Collection and his family were there to welcome us and led us round to his museum where tea, coffee and biscuits were waiting for us.
He had a notice up welcoming The Classic Rover Club and had on display a lovely gold coloured case (like a cigar box) with a Rover P6 badge on it. There was a fair bit of banter as a few members offered to buy it, but it wasn't for sale.
After the coffee we were split into two groups to be taken on a tour. My group went with Philip to see the military part of the museum first. When he opened the door and led us in, we were all completely blown away with the sight we saw. This was an incredible collection of German war memorabilia. The sheer number of exhibits and the completeness of the collection makes it truly unique. Philip walked us around and told us stories about key exhibits on display and answered any questions our members had. We were not allowed to take any photographs in this area.
After this, we were taken into the 50s, 60s and 70s parts of the tour. Again there were many exhibits including cars, motorcycles, signs, juke boxes, photographs, tickets and die-cast model cars. We spent a while in here before returning outside where there were other exhibits on display.
One of the most disturbing for some was a baby gas mask, with a doll in it, in a pram.
He also had a pile of old car magazines for sale and, needless to say, some purchases were made. More tea, coffee and biscuits was provided and we spent some time looking around, talking about the cars outside, and meeting Harley the dog.
This museum is a personal collection which Philip has built up over 45 years and he opens it on a voluntary basis to groups without charge, however any donations are gratefully received in aid of Cancer Research. We took up a collection and made a presentation of it to Philip at the end of our tour. Before we finished, Clifford Rainey arrived to take us all up to his house for a barbecue.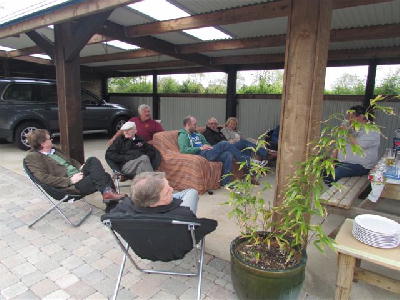 The spread laid on by Janet, Clifford and family was astounding. Burgers, sausages, roast chicken, garlic bread, pasta, salads etc. It was a lovely afternoon just sitting around the garden chatting and eating.
Patsy learned that Janet and Clifford had a piano and asked permission to play it. So, after the barbecue was finished, we all gathered indoors around the piano. Emma Rainey played as well and we also had a very short sing-song. We were then invited into the kitchen for tea and cake to finish the afternoon.
This was a really nice day out. I cannot find words sufficient to express our thanks to Janet, Clifford and their family for such a lovely afternoon. But, thank you.
At the end of our tour Philip asked us to leave a review on Tripadvisor. Just over a week later I did this and the following reply was received from Philip:
"Thanks for your kind words and the Club's generous contribution to Cancer Research. The two Classic Car clubs visiting that day made a donation of £250 between them. That was our largest one day donation to Cancer Research and they send you their thanks. Hope to see you all back at the collection soon. Thanks, Philip."