Saturday 9th May dawned a bright sunny day with blue skies – an ideal day for a car show! It was also the day of the Ballymoney Old Vehicle Club's Annual Show and Family Fun Day, held in the Showgrounds, Ballymoney.
Colin Jeffery, George Crothers, Ellie Martin, Mike & Maureen Curran and Wilbert & Phyllis McFetridge and I exhibited our cars. Richard Sloan also turned up, displaying a Briggs & Stratton stationary engine.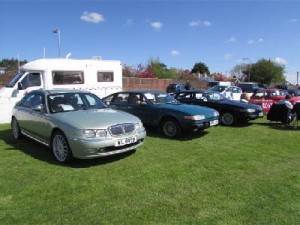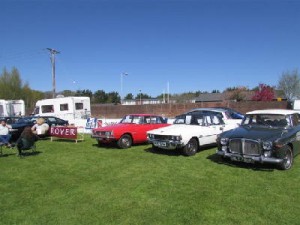 While most of the travelling band met up at Templepatrick Park and Ride, Roxy and I travelled south from Portrush. We arrived more or less at the same time and parked up as a group to set up the Classic Rover Club Stand. Colin and John Jeffery busied themselves with display boards including the history of AOI 426 and produced a startling variety of Rover P6 models. The usual banter ensued and George was momentarily mistaken for Mike's big teddy bear!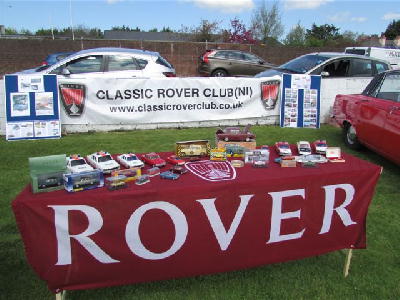 There was a wide range of stalls offering face painting, auto jumble, antiques, health products, various foods and bags of entertainment. Musical entertainment was provided throughout the day by Steve Farlow 'Ireland's Music Man', while Andy Rodgers appeared as Elvis with 'Uncle Hugo' providing his own inimitable form of entertainment later.
By late morning the playing field had been largely filled with 214 vehicles ranging from stationary engines, motor cycles, vintage farm vehicles and classic cars.
Cars that caught my eye included the 3rd oldest surviving Mini, in immaculate condition, owned by Alex Louden, and a pair of Jaguar sports cars owned by Jim Carey of the Ballymoney Club. He is the second owner of a 1988 5.3 litre V12 XJS with only 25,823 miles 'on the clock' in Cranberry Red with a black leather interior. Alongside it was his 4 litre supercharged Jaguar XKR in Aubergine with contrasting cream leather interior – both immaculate cars!
Towards the end of the afternoon we were all very pleasantly surprised to hear that The Classic Rover Club NI had been awarded the Best Club Stand and that Roxy had been voted the Best in Show in the category 1970-onwards.
I think the Club will have to return next year to defend its title – and we surely have other cars that would be worthy winners of the 1970s class, not to mention earlier ones!
Although final figures are not available, it is estimated that the Show raised in excess of £5000 for local charities.
Gerry Anketell