George and Neale called for me just after 7.30am and off we went to meet up with some other members at Sprucefield. We arrived just after 8.00am and went in for breakfast and coffee. It wasn't until 9.00 that all who were to meet there eventually arrived.
So, around 9.00am our convoy set off with my P6 as lead car. As we approached Newry, Patsy took over the lead in his P4 and showed us an alternative route around Newry to avoid the traffic. We arrived in Kilbroney shortly after 10.00am and made our way to the area allocated for our Club Stand, only to find it occupied by Triumphs! Not content with their own club stand area, the Triumph Club had erected their tape, parked some cars and put out chairs to book all the spaces in ours as well. Words were exchanged, but we spied a much better place, with no restrictions on size, and decided to move to keep the peace. I offered to push our cars off their stand to make them look more like Triumphs!
We parked up in our new spot and then the new club Gazebo was erected, the windbreakers (screens – not our club members!) were put up, tables and chairs put out and our stand was set. On Friday afternoon I had taken delivery of the new club polo shirts and fleeces and Maureen had the new club jackets. These were distributed to those who had ordered them and we all looked very professional.
As other Rover Cars, who were not connected with any other clubs, arrived in the field, we brought them over to join us and eventually had an impressive display comprising of 5 P4s, 5 P6s, 1 SD1, 1 200 (series 1), 1 25, 2 75s, 2 75 Tourers and an MGZT.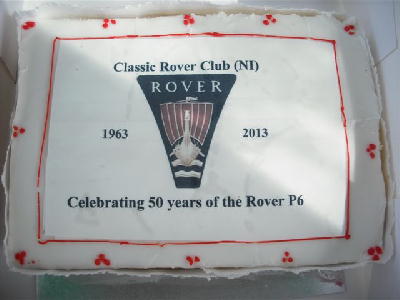 Our theme for the day was a celebration of the 50th anniversary of the launch of the Rover P6. Maureen had organised a special cake and this was put on display in the gazebo. Maureen also had copies of the Rover P6 50th
Anniversary supplement, which we had just completed a couple of days before and these were distributed to members.
John and I took a walk around some of the other cars and club stands and went to the auto jumble before going up to the café for our lunch.
The weather forecast was not good, but it held up very well. There was a heavy shower, while we were in having our lunch and one other short shower later on.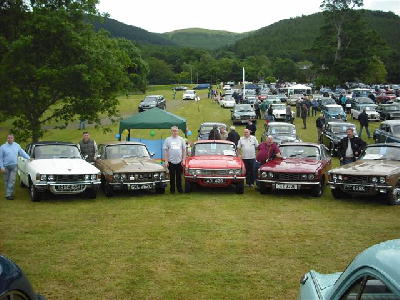 Back on our stand, at 2.00pm, the P6s were arranged in an arc for a photo session with the P6 owners. This attracted a bit of a crowd, which meant it took a while to get the photos. After this, young John cut the cake and there was a piece for all members and Rover owners and their families, who had joined us on our stand.
The barbecue was lit, the sun really came out, Patsy brought out the wine and the party got underway.
All too soon, the show was over and the field began to empty. It was a really great day and as far as I know, everyone there thoroughly enjoyed it. Those who weren't there missed a treat. A really great show.
Again, there are lots more photos of the event in the Gallery section of our website, go have a look!
Colin Jeffery